I think we can officially say that a previously underrated superhero has put himself firmly on the map.
That leather looking spandex was sure used comically.
Okay, so fans of the original Deadpool (Wade Wilson) will surely hate this movie because it's not true to the comics. Deadpool was played up to be a silly and ridiculous character who told sex jokes and was a jerk to everybody. Diehard Deadpool fans would have liked to see a more serious and traditional story of an ordinary man turned extraordinary, but this has an edge to it. It's entertaining with the right amount of dirtiness and violence that makes it anything but another bland and boring superhero flick.
My honest opinion of the movie: it was awesome in every way. I just watched it for the second time tonight and was blown away. The acting is superb and the action is spot on. There was never a dull moment. Ryan Reynolds, God's perfect idiot, has the look and charm to command a powerful leading role. Morena Baccarin was more than just the pretty face in this film and had some tenacity, such as when she punched the long bearded biker in the tender zone when he tried to hit on her. That Sinead O'Connor look a like named Negasonic Teenage Warhead (best name ever) played her part great as the sidekick and offered some funny moments. The humor is never ending and mixes well with some perfectly timed serious moments, such as the fight in the fire that proves Mr. Pool is truly invincible. Deadpool is definitely a breakout hit of 2016 so far. "It's a game changer" states the movie poster. That it definitely was. This isn't your daddy's superhero movie. The excellent delivery of Reynolds and his breaking the fourth wall give this film an extra appeal.
The movie starts out with some early exposition of Deadpool being involved in a car wreck on a bridge. This scene happens at the end of the movie but the director decided to give us an early glimpse of what's to come. His girlfriend, Vanessa Carlysle, played by Morena Baccarin, is kidnapped by Deadpool's arch enemy Ajax played by Ed Skrein. Deadpool's main objective is to get back at this man who left him horribly disfigured. The climatic battle at the end of the movie is slowly revealed in pieces throughout with X-Men members Colossus and Negasonic being introduced, who were trying to recruit him to join the team (maybe he will in Deadpool 2?) Did I mention that this is also the eighth installment in the X-Men franchise? That I did not realize until doing some research.
The movie then dives into the origins of Deadpool, starting with his wild lifestyle as a mercenary in New York and the "Dead Pool" game of betting on targets to kill. He proposes to his longtime love Vanessa but after she accepts he suddenly faints. Shortly after, Wade is diagnosed with terminal cancer and is told he doesn't have much time to live. He is then approached by a special team that says they have a way to cure his cancer and give him superhuman abilities. After he leaves Vanessa for this project, she moves on with her life knowing that Wade will eventually pass away.
In the laboratory, Wade meets Ajax and Angel Dust, two members of the Weapons X special operative. Ajax gives him a serum that will cure his cancer with the catch being that he will have to become a mutant for it work. He is put through a series of stress tests in order for the mutation to awaken, but which fails. Wade is then locked in an oxygen chamber and develops the mutant gene to cure his cancer – but here's a surprise: Ajax abruptly cuts off the oxygen and subjects Wade to total asphyxiation. He is cured of his cancer but as a side effect contracts a case of Freddy Kreuger skin with his new abilities. Wade eventually escapes from the chamber by lighting a match and blowing up the lab, getting into a fiery battle with Ajax who impales him, leaving him for dead. With his immortality, Wade survives this and sets off to find and kill Ajax.
Unable to walk around normally in public without being stared at, Wade creates the Deadpool suit and persona. His mission as the New York mercenary turned Deadpool badass is to track down Ajax, kill him, and win his love back. It's a reversal of roles. The man is the damsel in distress this time, not the woman.
The thrilling ending battle sees Deadpool kill everyone but Ajax, demanding a cure for his impairment but is told that it isn't possible. Deadpool kills Ajax and eventually reconnects with his girlfriend. He reveals his mangled face to her and it is concluded that she still loves him despite his flaws (on the inside and out) and they share a long embrace with Wham's "I'm Never Gonna Dance Again" playing on Deadpool's iPhone.
Overall I'd give this movie a 7/10. It's got everything you want in a superhero movie and more. Some of the jokes are ill advised and some scenes are over the top but it was a pretty spectacular popcorn flick. This is not a kid's movie but kids would find it enjoyable. It's not going to win any major awards but you can expect it to be one that can watched repeatably because of all the memorable scenes, that save it from being mediocre. Definitely one of Ryan Reynold's best films so far.
Now, don't get me wrong, this movie was great from beginning to finish. It instantly catches your interest with the freeze framed airborne car scene set to Juice Newton's "Angel of the Morning". But I'm just begging to wonder how Wade Wilson suddenly found the skills to craft his intricate Deadpool suit overnight.
The bonus scene at the end of the movie is a reference to the one used in Ferris Bueller's Day Off, another thing that I failed to realize until later.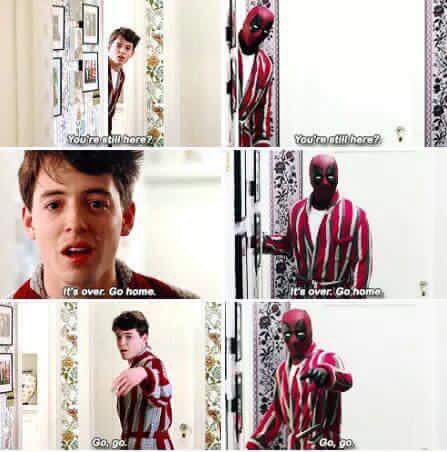 How incredibly inventive of the writers. This was quite an original movie by director Tim Miller. I had a far better time critiquing this film than the first time I watched it because of things being far more clearer to me.